These are the 106 books most often marked as "unread" by LibraryThing's users. As in, they sit on the shelf to make you look smart or well-rounded. Bold the ones you've read, underline the ones you read for school, italicize the ones you started but didn't finish.



I'm all moved out of residence now. Living back with my parents again.
Yeah, I should really start studying.

I know. Coontails are only worn by gross whores. But I've always thought they looked cool.
OK NOW EVERYONE! VOTE ON GIRLISH BEAUTY NOT-MATTERING STUFF!

Gross or not?
Give me a bald girl any day
Current Mood:

crappy
This is what happens when I should be studying.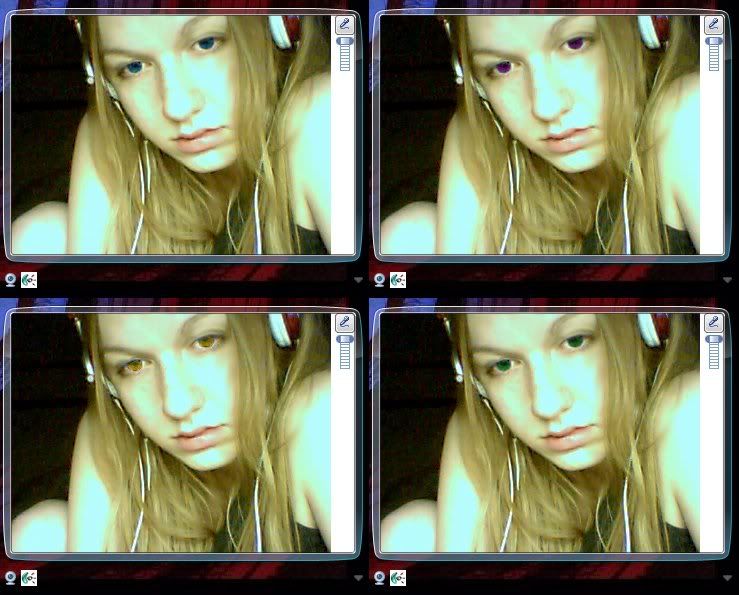 Current Mood:

bored

I miss going to the park and running and tripping and the smell of swing set on my hands. It's a smell I haven't even smelled anything close to. It's metallic and sunny and sweaty and rank and clean. I miss digging tunnels in the sand. I had this perfect tunnel city once, before I knew what dune was. Remember those slides that were really reflective and shiny and you knew that at noon they'd be as hot as blazes but you still needed to go down them and then you'd get stuck halfway and burn your ass. Oh, and the two-person slides, and you'd race somebody down but halfway you'd remember that the sand was actually lava so then you'd try to shimmy back up. Most of the time you made it. I remember wondering why sometimes it was bright and sometimes not bright, and i think that's the first time I became aware of external forces, because i looked up at the sun and sometimes it was covered by a cloud. It took me a while to put 2 and 2 together, but after I was always aware of whether the sun was showing or not.
You know what? I miss the swing set.
So my mom thinks I should get a style like the other girls she sees around school. I protest that I already have my own style, that of a crazy art kid.

But there weren't that many people, and I got four to nine times the points of everybody else I played against. I felt sorta bad, but I couldn't switch up.

So I won two tickets to fantasyland or the waterpark, or four tickets to Eds Arcade. Whee.
So yeah, I just won a guitar hero championship. I was on Medium because I haven't played in a month and I thought there would be lots of people, so I could probably score high in Medium.
Current Mood:

ecstatic