POLISH SALE!
Free pick up in Edmonton (or we can meet somewhere)
I can ship to anywhere in Canada or the US. Make an order, and I'll get back to you on shipping. I guesstimate shipping will be about $5.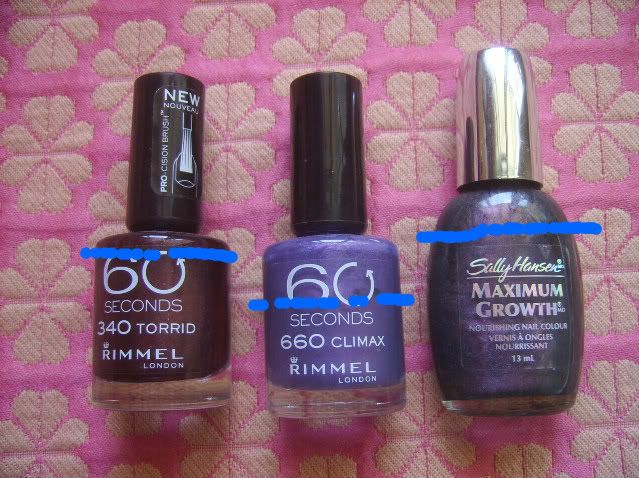 Rimmel 60 Seconds
Torrid : Burgandy brown $2
Climax: Purple w some pink shimmer $2
Sally Hansen Max Growth Chameleon: 1/4 gone. Gives an oilslick effect over black. $4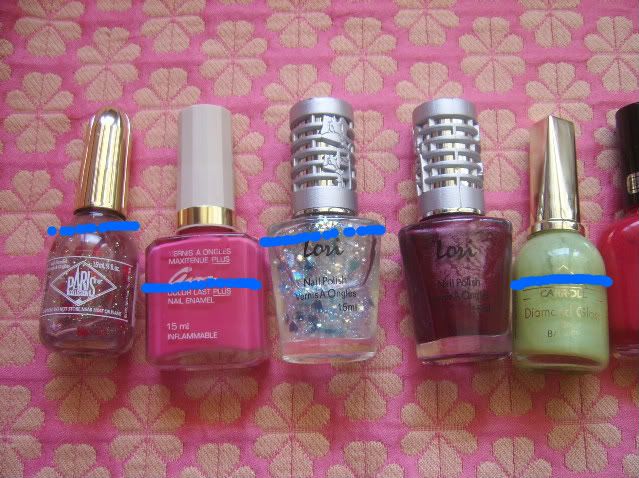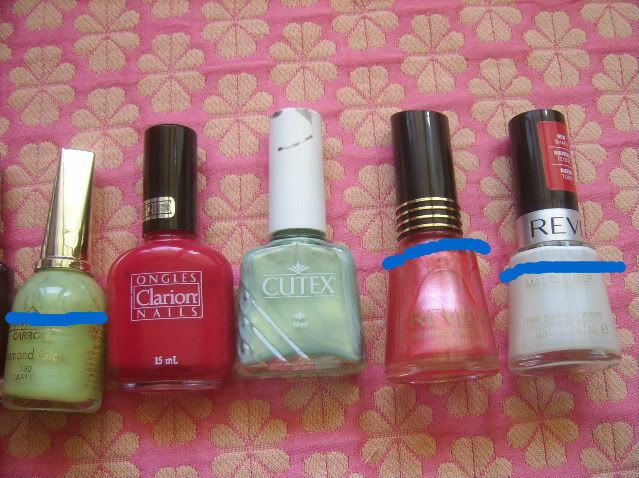 Paris 773: clear with red hearts, holo dot glitter $.50
Avon Mango: coral creme $.50
Lori 07: clear with blue stars and holoish hex glitter, with blue dot glitter $.50
Lori 06: Burgandy $.50
Constance Carroll Barley: 1/2 frosty yellow/green $.50
Clarion Ruby Creme : ruby red creme $.50
Cutex Contrast: mint green with gold shimmer $.50
Revlon Chic Pink Crystal Limited Edition: frosty coral, $1
Revlon Powder Puff: Matte Suede white $2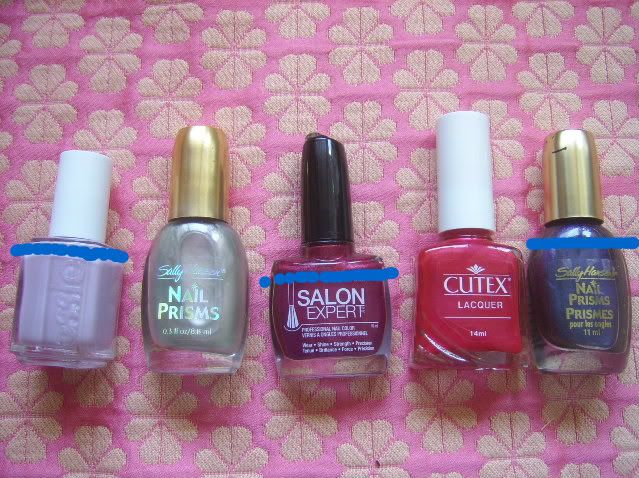 Essie St. Lucia Lilac: pastel purple $3
Sally Hansen Nail Prisms in 15 Lavender Pearl: swatched 1x, $5
Maybelline Salon Expert in 09 Volcanic Red: Swatched 1x, $2
Cutex in 55 Lacquer: Pink/red. Usage as shown. $1
Sally Hansen Nail Prisms in 03 (Turquoise Opal I think): I tried a few times, but eventually decided I didn't like the effect. $4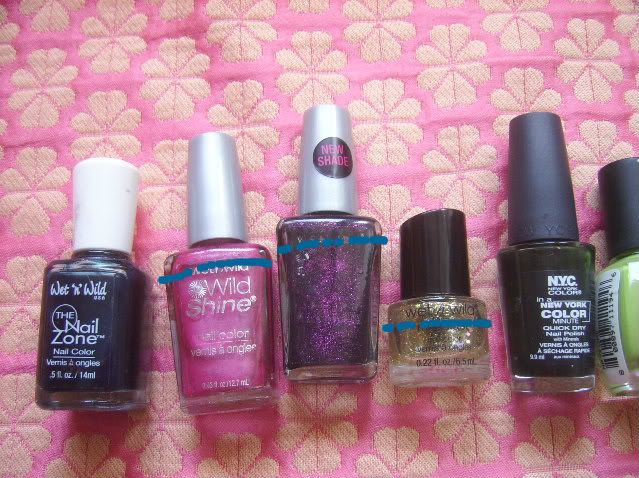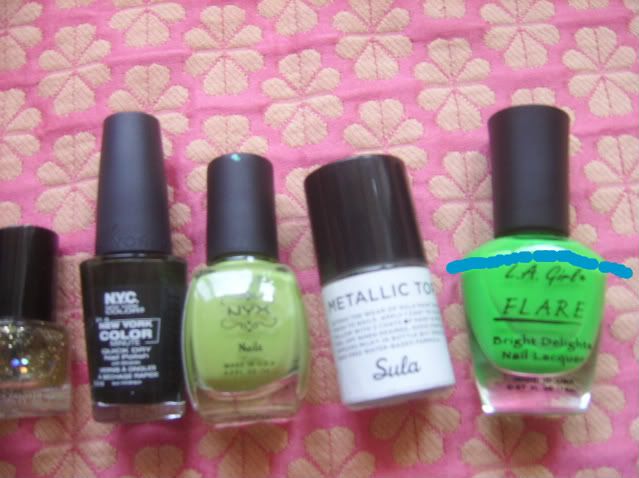 This row $1 each: Wet n Wild smokin', WnW Lavender Pearlescent (although it is a pink), WnW Night Prowl, WnW Comet, NYC Flat Iron Green, Nyx Lime, Sula Metallic Top Coat, LA Girl Flare Electrify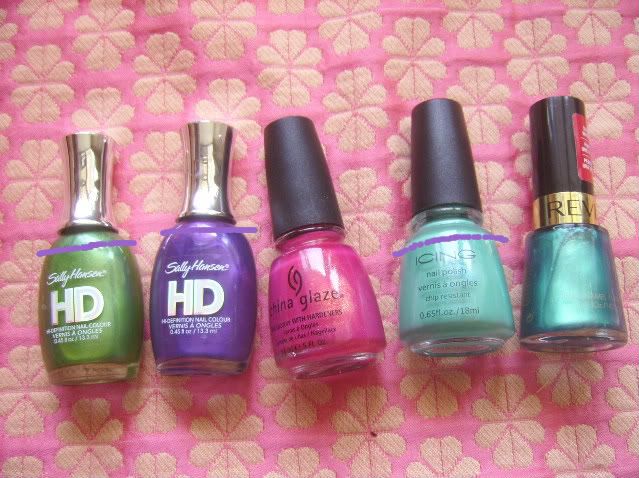 Sally Hansen HD Hi-def $2,
Cyber $2,
China Glaze Strawberry Fields: never used $4
Icing Laura's Fave: Greener than For Audrey, slight blue shimmer $4
Revlon Scented Ocean Breeze: used 1x, $4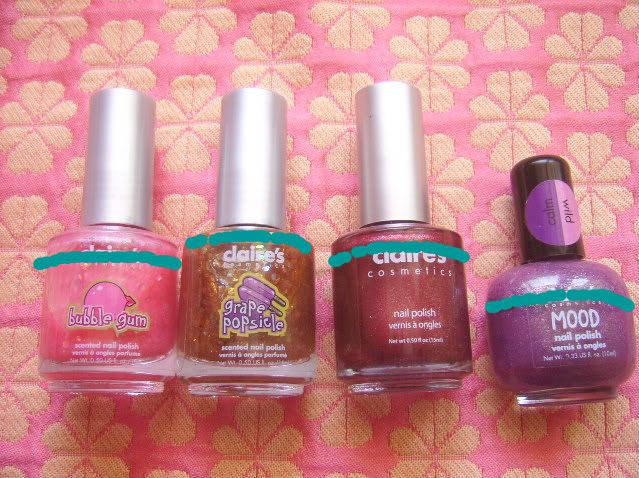 Claire's:
Bubblegum: Pink with Opalescent hex and dot glitter. Smells really strong. $1
Grape popsicle: Purple/Brown with opalescent hex and dot glitter. Smells really strong. $1
Red Slippers: Burgandy with gold foil particles $1
Mood: Calm/Wild: Color changing purple with silver shimmer $3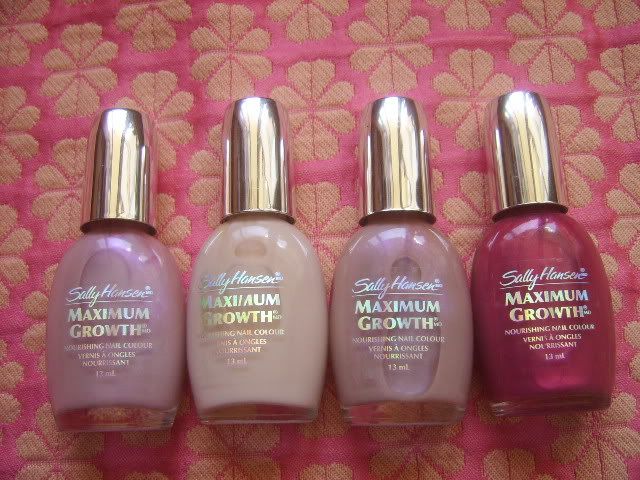 Sally Hansens $1 each
No-name
Intuitive Pink
Inspired Orchid
Plum Pleasure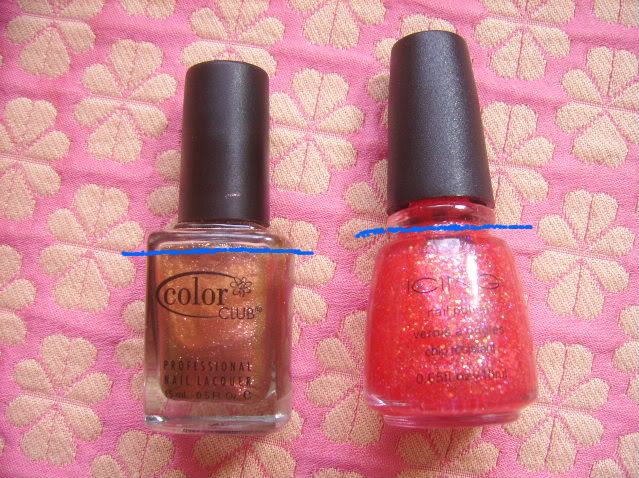 Color Club Wild and Willing: This was a lemming for a long time, till I bought it. Then I found that I didn't care for it as much as it deserved. $6
Icing Tiger's Blood: Swatch 1x, $4
NON POLISH ITEMS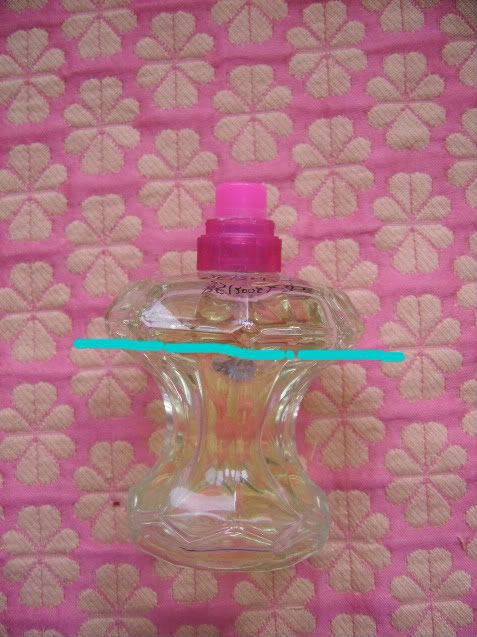 Betsy Johnson fragrance, $10, usage as shown. I finally decided I didn't like this on me, and I could use the money. Usage as shown.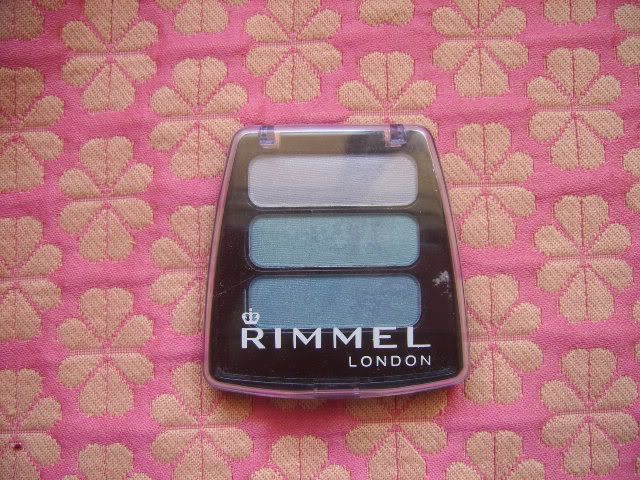 Rimmel London Color Rush trio eyeshadow in 700 Maritime. Swatched. $1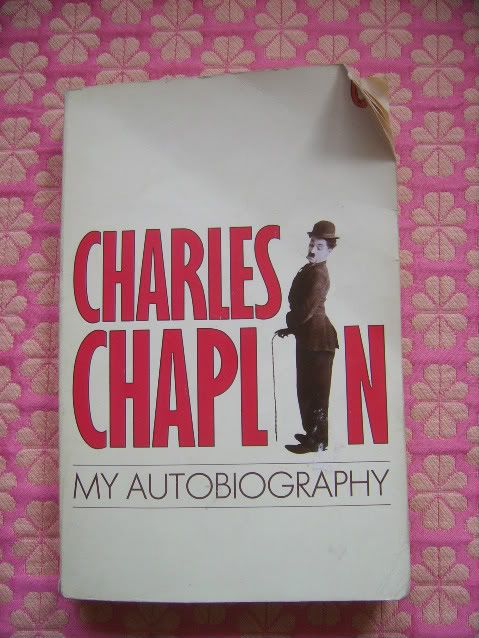 Charles Chaplin Autobiography $5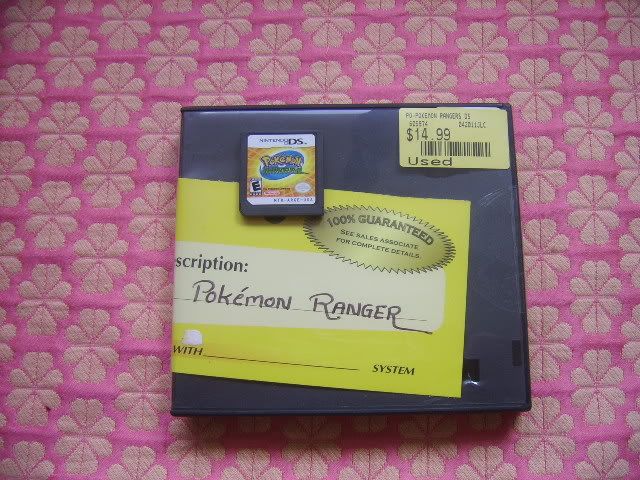 Pokemon Ranger that I got at Gamestop: $10. I beat the game, and then discovered that my used copy had no Manaphy in it. So this is Manaphy-less. :(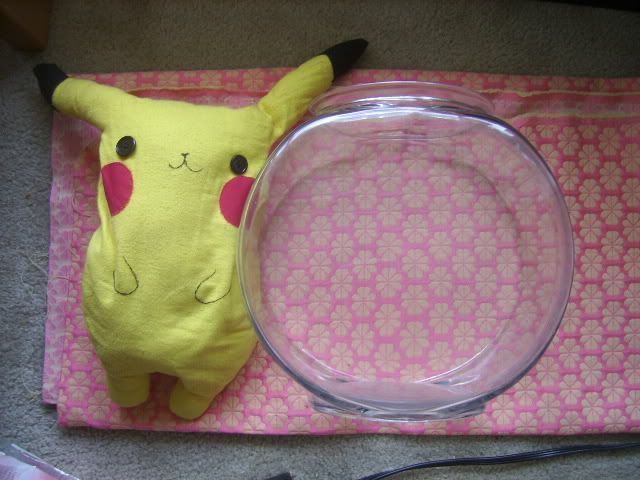 Fishtank! Pikachu is there to show scale, Pikachu is not for sale. Tank could hold 1 goldfish or two smaller fish. I probably can't ship this. $5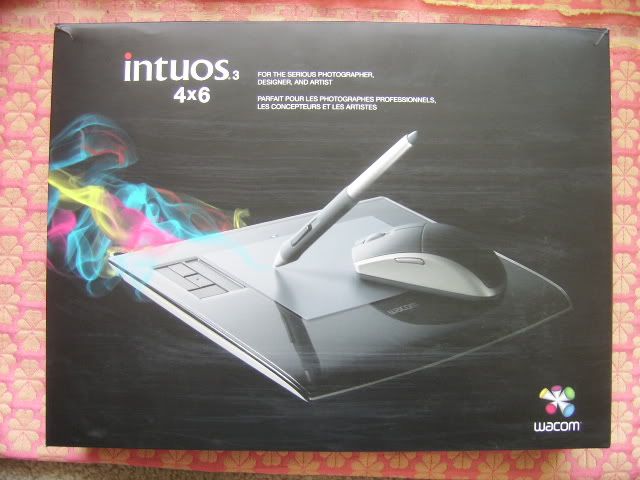 Intuos Wacom Tablet: $100. I got one after wanted one for years and years, and found that I don't use it. :( All parts are included.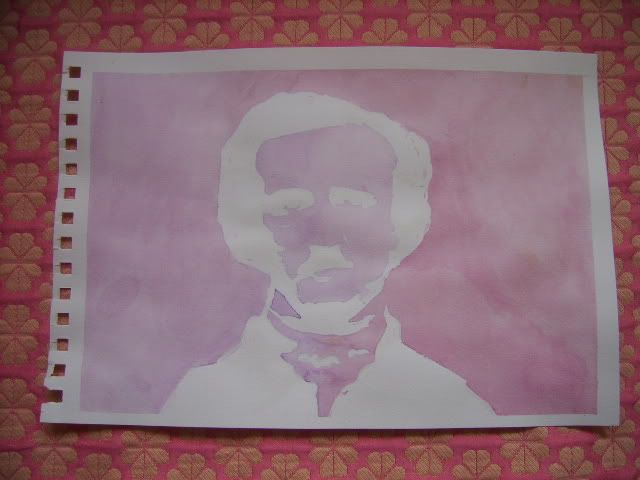 What's this? A beautiful portrait of E.A. Poe, ready to be framed or given to children, husbands, significant others, grandparents, etc! By me, $5.
Thank you for looking!
Current Mood:

hungry